3 Things You Never Knew About Flaxseed Gel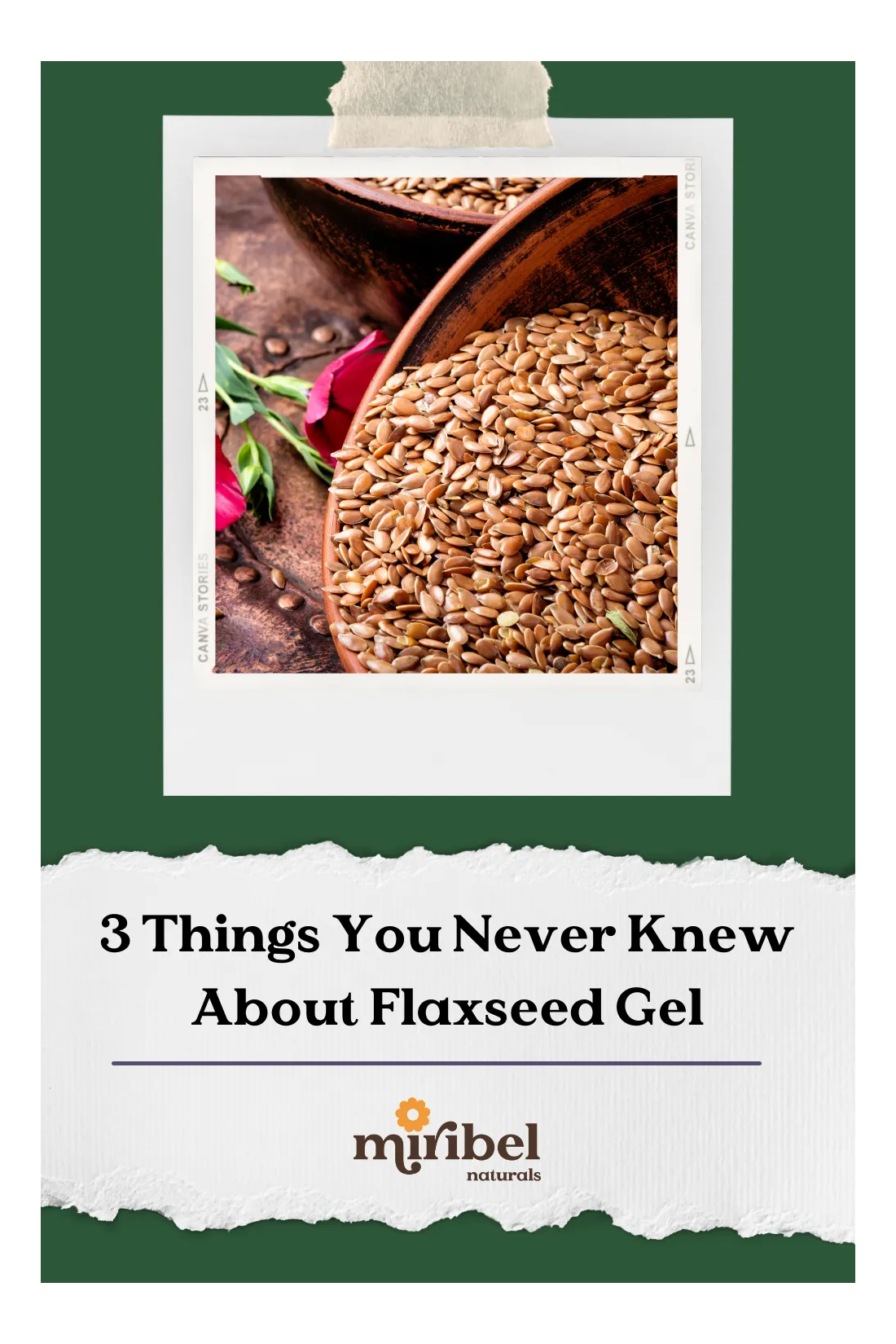 You're starting your healthy hair journey! Right on! But you've reached the styling portion of the routine. Oof, now what?
You might have heard other people talking about flaxseed. But what is it? And how do you use it?
You didn't think we'd just leave you hanging, did you? Dream on! Get amped up and ready to learn 3 Facts You Never Knew about Flaxseed Gel.
WHAT IS FLAXSEED?
Quick tip- the first five ingredients make up the largest amount of the product, about 80%. So, in a product like the Silky Smooth Flaxseed Gel, flaxseed is one of the main ingredients. Learn more about how to read ingredient labels here. 
Alrighty, before we get into how to use it, what even is flaxseed?
According to the International Journal of Medicinal and Aromatic Plants, flaxseed extract (also known as linum usitatissimum) is "an annual plant of the Linaceae family. It is an oilseed produced in more than 50 countries, mainly in the northern hemisphere. It contains about 40% lipids (most being Omega-3 fatty acids) and 20% protein".
Huh? What does all that mean? Okay, the main point to take away is that flaxseed gel contains Omega-3 fatty acids.
Just a note: While flaxseed does contain protein, the protein is too big to penetrate the hair shaft, making it more or less a protein-free hair product.
WHAT ARE OMEGA-3 FATTY ACIDS?
Omega-3's are nutrients that help you sustain a healthy body. This is why people use flaxseed not only on their hair, but on their skin and in their diet as well. Omega-3's have been known to actually calm skin ailments like eczema and alopecia.
So what can Omega-3's do for our hair?
Scalp Health
Relieves scarf inflammation

Nourishes and moisturizes the scalp

Keeps itchy scalp and dandruff under control
Hair Health
Promotes healthy hair growth and retention

Acts as a superfood to moisturize follicles
Aging
Prevents premature aging and graying

Contains antioxidants for a hospitable hair growth environment
If the hair and scalp are adequately moisturized, then the elasticity of the hair increases. Elasticity is the stretch of the curl. This helps to repair damage and prevent breakage.
According to the study in the International Journal of Medicinal and Aromatic Plants, an indirect benefit of topically applying flaxseed extract to the hair for four weeks resulted in improvement. Not actually in hair length or weight, but in width.
This shows that flaxseed extract helps the hair grow thicker. It can help prevent hair from thinning due to changes in diet, life (for example, stress), or any other conditions.
HOW DO YOU USE FLAXSEED?
Now that we know all about what flaxseed is, how do we use it?
We recommend using flaxseed as your last styling product. We like to use it in a medium hold gel, such as our Silky Smooth Flaxseed Gel. It moisturizes and provides a great hold for naturally-textured hair, especially curly hair. We love it because it's flake-free, does not need to be refrigerated, and there is no DIY mess. And no more stiff or flaky curls!
An important part of using flaxseed gel is the cast. By coating your hair in the gel while it's wet, you'll be left with a crunchy shell. Don't worry, this is normal! It's used to protect your hair in its natural pattern. Just wait until your hair is fully dry and scrunch out the crunch!
Miribel Method: We use the Dreamy Hair Cream to break up the cast, so our hair doesn't lose any moisture.
Now, keep in mind that the more you touch your hair, the more frizz you'll create. But that's okay, the volume makes up for it!
Remember it's all trial and error. You might need to adjust your flaxseed gel amounts based on your hair texture.
Cool beans, you are ready to get down with flaxseed. Did you like what you read? Have you tried scrunching out the crunch? Leave us a comment!

Credit: Adrienne Monroe of redcarpetcurls.com.
LEARN MORE!
DIY Refresh Spray with Flaxseed Gel
---
1 comment
---
---