4 Ways to Care for Silver Hair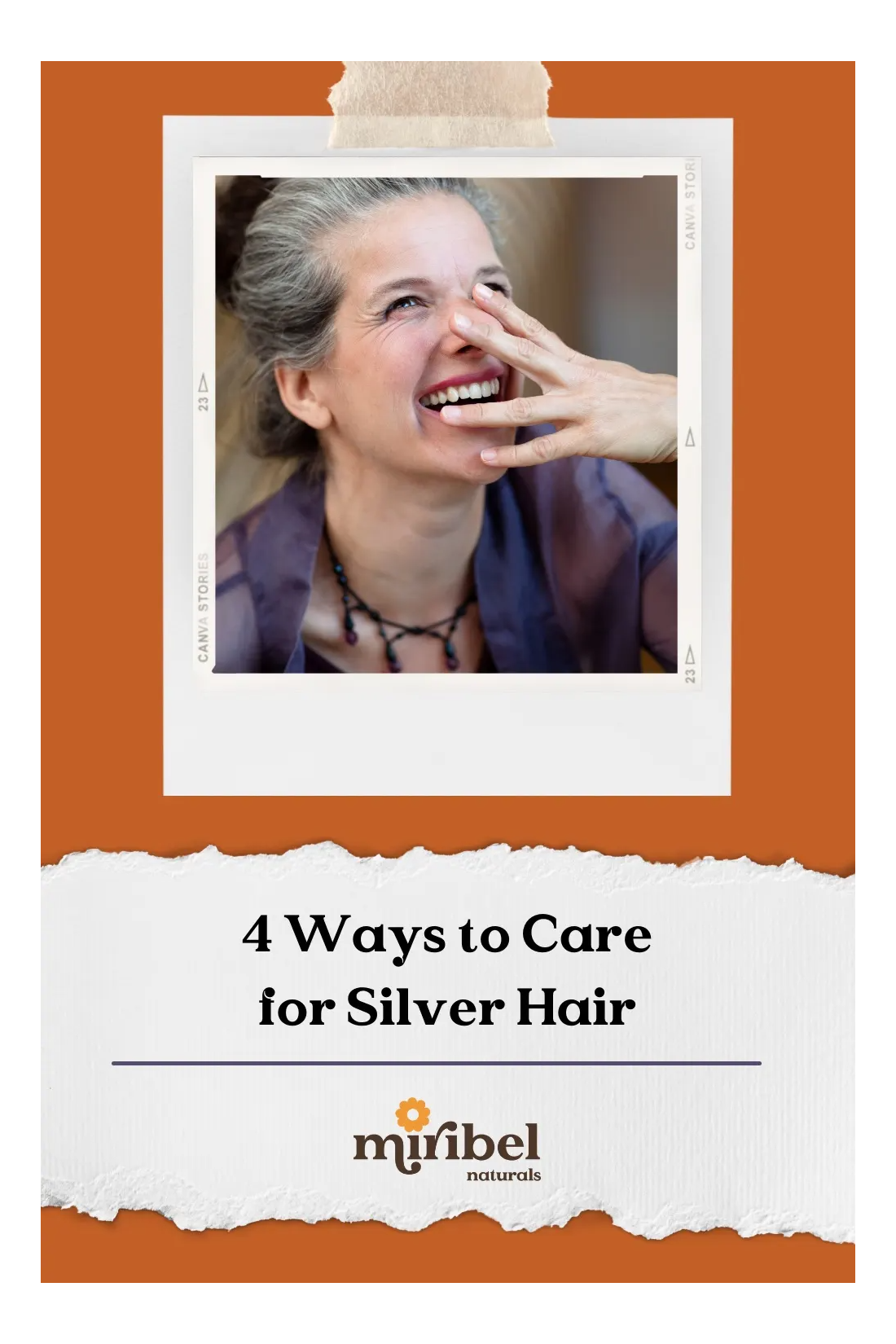 Here because you need some silver hair tips? Our guess is that you've finally figured out your hair routine, and then it started changing! What are we supposed to do now?!
It's fine, we can get down with this. It's just a new routine. And we're here to help!
But, how do you maintain your new hair color and texture? Read on to learn 4 Ways to Care for Silver Hair.
CLARIFY WITH PURPLE SHAMPOO
Silver hair is not actually silver or white. It is colorless. Our hair follicles produce melanin, which colors our hair strands.
If you are going silver, your follicles have stopped producing melanin.

If you have white hair, your hair has lost all of its natural pigment (color).

If you have gray hair, your hair still has some of its natural dark color remaining.
It's okay though, let us hit you with a rad tip. The color purple does not reflect light as well as other colors. By using purple shampoo, your dull or bleached hair will be reflected more brightly. So nifty, right?!
FIND A MOISTURE AND PROTEIN BALANCE
Silver hair does not hold as much water and moisture. This causes it to feel dry and coarse. We recommend deep conditioning to revitalize dry hair. In between deep conditioning days, use hair cream for that much-needed moisture.
Also, silver hair actually has a thinner cuticle than hair with pigment. The hair strands are thinner and more prone to breakage. Adding protein will strengthen your hair strands!
Miribel Method: We use the Dreamy Hair Cream and Powerhouse Protein Cream!
USE PROTECTION
Properly taking care of your delicate locks is true for any hair type. Many curlies and other hair types swear by silk pillowcases, bonnets, and wraps. But, this is especially important for silver hair that is prone to breakage. By reducing the friction on your hair at night, you reduce the damage to your hair strands.
We love to use our Satin Scarf for protection (plus it makes us feel pretty groovy)! Not sure how to tie a scarf? Check out our tutorial here.
Another way to protect your hair is from the heat. Gray hair can actually start to fade to yellow from repeated heat exposure. We suggest limiting the use of heat styling tools. We know, it's so easy to just use a blow dryer quickly. If you must do it, use a heat protectant and diffuser.
GET REGULAR HAIRCUTS
Frequent haircuts are so important for everyone! We only want healthy hair on our heads. Even if your long hair looks glamorous, it might not be healthy.
We aren't saying that you have to go for the big chop (unless you want to)! Just maintain the dead ends to keep your hair the healthiest it can be.
SOME FINAL ADVICE
From Lynley, @silvercurlylady
"Experiment and play with your hair! Don't get bogged down with expensive products! See what works and more importantly, what doesn't, and just have fun with it! Claim this gorgeous color as your badge of honor, your individuality. Each of those silver strands is a problem solved, a dawn after a long night, and the promise of more adventures to come."
Alrighty, there you have it! You're all set to care for your transitioning hair! Did you like what you read? Have a question? Know another tips we didn't mention? Leave us a comment!
LEARN MORE!
6 Things to Look For in an Ingredient List
---
5 comments
---
---