6 Things to Look For in An Ingredient List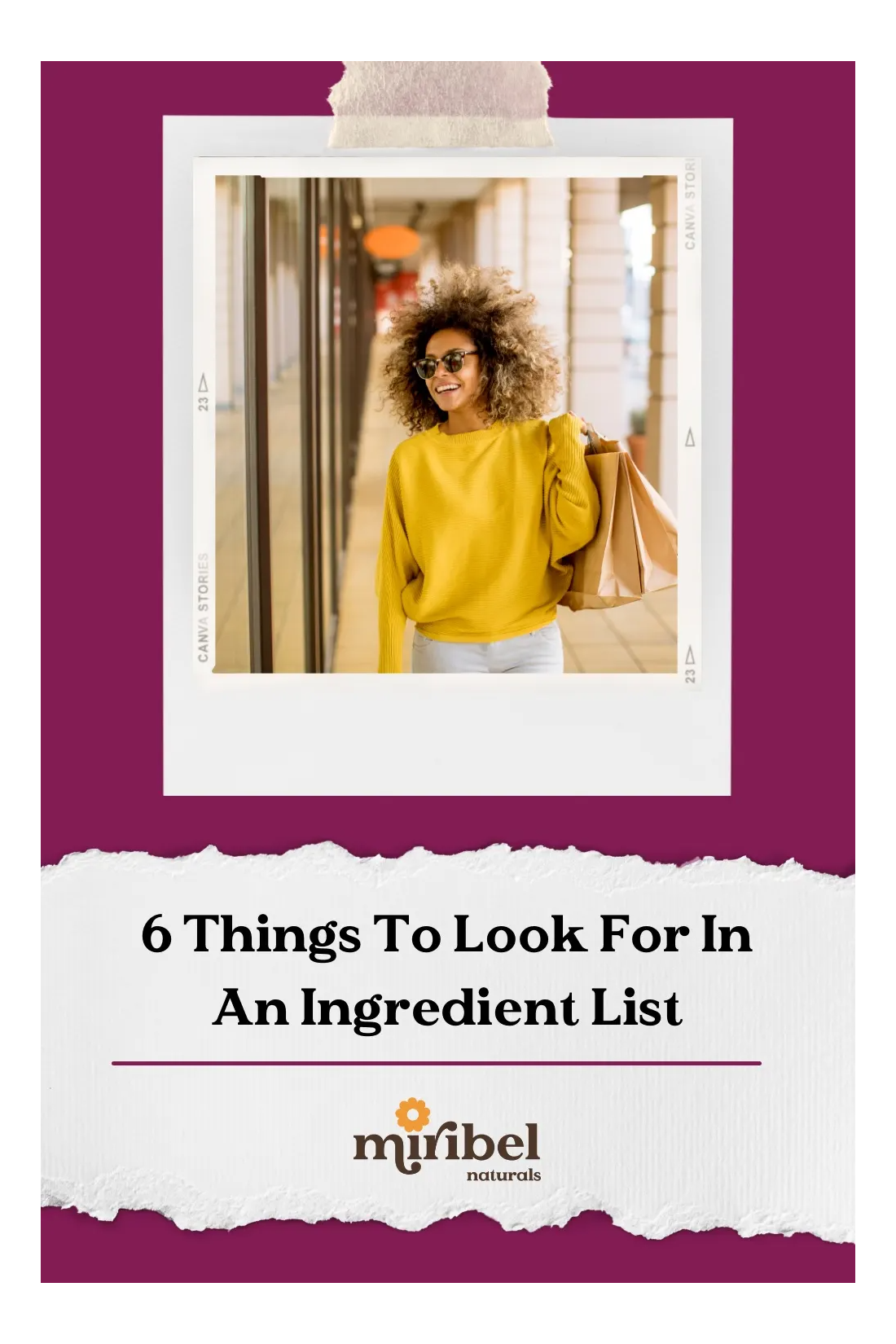 Picture this- you're standing in the aisle of your favorite store and browsing the hair care section. You've got a different product in each hand and you CANNOT decide which one to purchase.
How many times have you bought a product because of its beautiful design and big claims, but when you brought it home, it didn't work for you at all?
Don't bug out! The ingredient list can answer all of your questions about which product will best suit your needs. We've all taken a quick glance at a product and thought, "what in the world do all those giant words mean?!". We know, it can be confusing, but it doesn't have to be. Read on to learn the 6 Things to Look For in An Ingredient List.
INGREDIENT ORDER LISTING
Did you know that ingredients are listed in order from the most used to least used? When looking for a specific ingredient, see where it lies on the list.
First 6 of the List: large part of the overall product

Bottom of the List: used in a very small amount
Miribel Method: You know how brands will sometimes highlight a specific ingredient in mega letters on the front of the package? This can be misleading. Look at the list to see how much is actually used in the product. For example, a product label might claim it "strengthens hair". Where is protein located on the list?
PRESERVATIVES
Preservatives sound so…dirty, don't they? But, they're actually extremely useful and necessary. We kid you not! They stop bacteria from growing and keep your product shelf stable for longer.
Most preservatives are used in very small amounts. The most common type of preservative you'll find in natural products is phenoxyethanol, usually concentrated at 1%. Imagine your conditioner bottle. The whole bottle of conditioner is 100%. 1/100th of that bottle is a really small amount.
When looking at an ingredient list, find the preservative and then look at what is listed after it. Anything following it is used in very minute amounts.
Some other common preservatives are:
Benzoic Acid/Sodium Benzoate

Sorbic Acid/Potassium sorbate

Levulinic Acid*

Anisic Acid

Germaben II

Methylparben

Propylparaben

Butylparaben

Methylisothiazolinone/ Methylchloroisothiazolinone
FRAGRANCE
Real talk, we aren't huge fans of fragrance. It doesn't need to be regulated, and it's hard to tell which ingredients are actually used to make the fragrance.
However, we do understand the desire to smell nice. Fragrance is typically used in small amounts, so anything listed after the fragrance on the ingredient label may also be used in a very small amount. Of course, this varies by product since the amount of fragrance used depends on how strong the scent is meant to be.
----------
QUICK NOTE:  None of the following 3 ingredients are necessarily bad. It depends on you, your hair, and your preferences. That being said, it's important to be aware, so you can plan your hair care routine accordingly.
SILICONES
Silicones are plastic like ingredients that coat your hair. Typically, they can only be washed out with clarifying or chelating ingredients (most commonly, sulfates). You can spot a silicone in your product by looking for -cone or -xane.
Common silicones include:
Dimethicone

Cyclomethicone

Cyclohexasiloxane

Cetearyl Methicone

Cyclopentasiloxane

Amodimethicone

PEG-12 Dimethicone

Dimethiconol
If you see "PEG" written before the silicone, that particular silicone is water soluble. You shouldn't need to use a deep clarifying or chelating shampoo to effectively clean it from your hair strand.
SULFATES
Sulfates are included for cleaning purposes. They are used to make shampoo foam and bubble. They can also be very drying because they deep clean our hair and scalp.
Some common sulfates are:
Sodium Lauryl Sulfate Sodium

Laureth Sulfate Sodium

Lauryl Sulfoacetate Sodium

Lauroyl Isethionate

Sodium Lauroyl Taurate
Miribel Method: We recommend using sulfates or clarifying ingredients 1-2 times per month. However, this could differ by hair type. If you experience product build-up quickly, you may even want to clarify once per week.
DRYING ALCOHOLS
First of all, not all alcohols are actually bad. In fact, some are really beneficial for conditioning our hair!
Good alcohols include:
Cetyl alcohol

Cetearyl alcohol

Myristyl alcohol

Lauryl alcohol

Propylene alcohol

Stearyl alcohol

Isocetyl alcohol

Isostearyl alcohol
However, we want to focus on the bad alcohols that dry out your hair. Examples of these are:
Alcohol Denat (denatured alcohol)

SD alcohol 40

Benzyl alcohol

Ethanol

Ethyl alcohol

Isopropyl

Methanol

Propanol

Propyl
These ingredients can often be found in hairsprays and mousses. Be careful with your product usage if drying alcohols are high on the ingredient list. If you see the drying alcohol lower on the list, it's most likely working alongside a preservative and shouldn't have that much of an effect on your hair.
WHY IS ALL THIS IMPORTANT?
Reading ingredient lists definitely take time and practice, but it is such a helpful skill to have. You'll be able to differentiate the good products from the not so good, and if a brand or person is trying to fake you out!
So, the next time you find yourself perusing the aisles of Target or shopping at miribelnaturals.com (excuse us, we mean online), pull out this blog for reference. You'll know exactly what you need to look for!
Want to practice? Here's the ingredient list for our Powerhouse Protein Cream. Try to identify these ingredients: preservatives, fragrance, silicones, sulfates, drying alcohols.
water, cetearyl alcohol, cocodimonium hydroxypropyl hydrolyzed rice protein, behentrimonium methosulfate, glycerin, hydrolyzed wheat protein, hydrolyzed adansonia digitata (baobab) seed extract, salvia hispanica (chia) seed oil, glyceryl caprylate, levulinic acid, hydrolyzed caesalpinia spinosa gum, rhodiola rosea root extract, sodium levulinate, lavandula angusttifolia (lavender) oil, hydrolyzed quinoa, p-anisic acid, amaranthus caudatus seed extract, avena sativa (oat) kernel extract, laminaria saccharina (neptune kelp) extract, sodium benozate
Check out our other product ingredient lists:
Silky Smooth Flaxseed Gel
Creamy Hair Cleanser
Dreamy Hair Cream
---
2 comments
---
---