5 Ways to Take Care of Your Curly Hair this Summer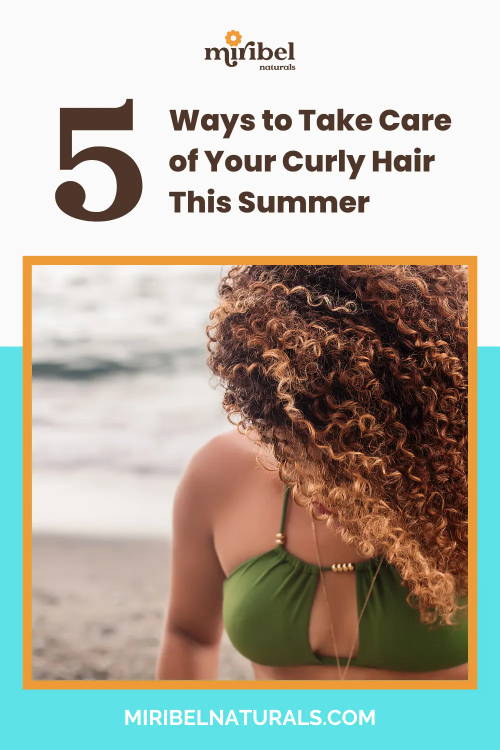 ---
I think the time has to come to chat about summer curly hair. How do I know? Well, lately, all I've been thinking about is how hot its getting and how nice a trip to the beach would be.
But, when I think about beach trips and being out in the sun, it makes me wonder about my hair…which products should I bring? How will I style? Do I follow my normal routine?
Below are a few pointers for taking care of your hair, while spending your days in the sun.
Cover your Hair

H
eat damage doesn't only come from flat irons and blow dryers! Excessive exsposure to the sun can also damage those beautiful locks.

What to do? Wrap your hair in our satin scarf or use a hat to cover your hair. This will protet it from heat damage.

Balance Out the Moisture in the Air

Summer air is filled with humidity and moisture. An easy way to balance out the excess moisture in the air is to make sure you're using some protein in your wash day.
We love using the Powerhouse Protein Cream as a rinse out, leave-in conditioner, or even a hair mask. Our protein cream is SUPER concentrated. To avoid using too much, start with a dime-size amount on wet hair.  

Condition Before Jumping in the Water

Before you jump in the pool or ocean, wet your hair with fresh water and apply a moisturizing conditioner.

Your hair can only absorb a limited amount of water. By wetting your hair with fresh water first, you'll limit how much chlorine or salt water gets absorbed. Chlorine and salt water also tend to dry out your hair, so going in with conditioner in your hair will keep your hair from getting too dry!

We love to use our highly moisturizing Dreamy Hair Cream before taking a dip in the water.

Co-Wash More Frequently

With all that sweat, salt-water, and chlooring, you may find yourself thinking you need to shampoo every wash day. Truth is, the more you shampoo, the more you will dry out your curls.
Instead, try limiting your shampoo to once (maybe twice) a week. In between shampoo wash days, try using a conditioner wash (aka co-wash) or no poo (a low to no lathering gentle cleanser).
For a clean, tingly feeling that also leaves our hair and scalp moisturized, we love using our Creamy Hair Cleanser.

Avoid the Wet Bun

After taking a dive in the poool, your instinct may be to pull your hair up into a bun or ponytail. Thing is, when your hair is wet it is in a weak, vulnerable state, making it more proone to damage and breakage.
Instead, let your hair dry in the warm sun before pulling it back!
---
---
The Miribel Naturals vegan, cruelty-free curly hair products are specifically designed to promote natural bounce and strengthen your curls while providing optimal hydration. Shop here and learn more about our products and how they can help you achieve healthy, beautiful hair!
---
---
1 comment
---
---